Sarah Warburton, Lecturer in Career Guidance
You spend hours trawling through various job search websites, you write a CV/cover letter/application form (or all of the above) and 'submit', only to never receive a response.  May be you get a cursory email telling you that your application won't be progressed on this occasion because the standard of applications has been so high, but feedback won't be available due to the high number of applications.
You may even get invited to an interview.  You looked good and felt confident.  You prepared and you felt the answers were thorough and spot on.  You felt you had good rapport with the interviewers and they responded well to what you had to say.  Then you get a phone call, or even worse, an email to thank you for your time…you know the rest.  If you are a university graduate, you may have even got to this stage after what feels like 57 stages of a recruitment process, only to go right back to square one.  Repeat any of the above another few times, and job rejections can really make you feel rubbish and can affect your confidence at a time when it is needed the most!
If you're a student or graduate and new to the workplace, a career changer, not successfully gaining a job does hurt.  Rejection is inevitable at some point.  In my time as a recruiter and careers adviser, I've not met anyone who hasn't gone through this at some point in their career.
So whether you've received one job rejection or twenty, not got past the application stage, or have had 2 interviews and the bad news arrives, if you're starting to get that gradual feeling of your soul being sucked out of you like a Dementor from Harry Potter, try to keep the following in mind, it might help
1. You are still employable
Many people take a job rejection personally, and it can even bring about feelings of not being 'good enough'.  This however is simply not the case.  There are many reasons why you may not get the job.  Maybe you have the right skills and experiences but you just had an 'off' day and didn't answer a couple of questions as strongly as another applicant.  May be another candidate had just a little more relevant experience than you on this occasion. May be the employer didn't feel you were the right 'fit' for them.  This does happen, and doesn't mean you couldn't do the job.
2. Job rejections can help you to assess where you are in the job market
This one is especially useful when you can get some feedback from an employer.  May be you're not ready for that level of role yet.  May be your interview technique needs a bit of work (see no.3).  May be you could benefit from gaining a bit of relevant experience in that career field, gain work experience to develop your transferable skills and your confidence.  Either way, job rejection can actually help guide and focus your efforts more when applying for future roles.
3. Job applications and interviews are a 'skill-set' in themselves
Over the years, many of the people I've advised convey their confusion to me when an employer rejects them for a job even though they technically meet the entry requirement in terms of qualifications, skills and experience.  However this doesn't even guarantee at least an interview let alone a job offer itself.  Employer recruitment processes require a level of self-promotion (not in a cringey narcissistic kind of way), but in a way that confidently tells an employer 'I have strengths/achievements/experiences which I think would make me the best person for this job.'
Some employers require the completion of a very comprehensive application form e.g. evidence of using competencies and motivation questions etc.  Even a CV is not just a simple list of education and work experience.  The actual process of applying for, and performing well in interviews, are skills in themselves.  As with anything in life, learning these necessary skills can take time and practice in order to build competency and confidence.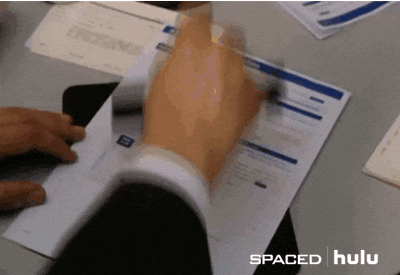 4. Consider whether the job rejection actually did you a favour…
Weighing up whether to apply for a job vacancy is done on the basis of very limited information in a job description.  Just because the employer and role interests you, it doesn't mean that if you got the job you would be happy and like your place of employment.  It's easy to get caught up in the application process and wanting the job so much, that it's hard to see whether the employer would actually be a good 'fit' for you.  If you went to an interview and didn't get the job, it can hurt.  But if you stop to think about the day itself, did you get a good vibe from the team members and even your future manager?  If your gut is screaming 'no', then even though the rejection hurts, chances are this employer has done you a massive favour as you may have started and left the role later on any way.
5. That one job/employer is not your only option
When another job rejection comes in, it's sometimes hard to gain that bit of perspective to think that there are other employers and job roles out there.  Job seekers mostly search and apply for jobs by looking at online job websites.  Scrolling through these website can be soul destroying enough as it is.  It's easy to think that there isn't much out there and that most of the jobs are not relevant.  However, not all companies will advertise jobs on these websites.  Sometimes changing the method of job search and accessing the 'hidden' job market and vacancies can offer an effective and alternative way of finding work.  Use LinkedIn to find like-minded professionals, search through Meet Up and EventBrite to find local networking events.  You may find out about companies and job roles you never knew existed, and shake up your job search which can be motivating in itself.
6. Get some help from a careers adviser
If you would like to discuss anything careers related, may be talk about possible career options, job search strategies, how to improve your CV or interview skills, do get in touch with the Careers & Employability team.
7. Keep the faith… your mind-set is massively important
Searching for and getting a job is hard.  When you have responsibilities and life pressures, it can feel even harder.  If you experience more than one rejection, it can be easy to descend into a downward spiral of negative thinking.  This negative mind-set can be a self-fulfilling prophecy. Negative breeds negative, so try to find ways to keep positive and maintain your motivation.  Different things work for different people. Read self-development books or blogs. Keep a routine, structure your job search time.  Continue to develop yourself in ways which can open you up to new people and opportunities.  Improve your application and interview skills, find like-minded and encouraging people to spend time around, and limit the time you spend around negative and judgemental people.
Careers & Employability supports University of Worcester current students and graduates.